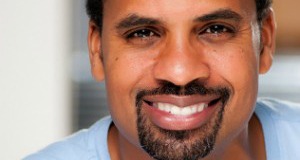 Masud Olufani – Making a Greenville Debut:
Masud Olufani is a stage and television actor with appearances in numerous television shows including Being Mary Jane, Devious Maids, and Nashville.  He is the featured host for Georgia Public Broadcasting's 37 Weeks: Sherman on the March, currently airing on GPB television.  Recently we caught up with Masud and got him to take a few questions about himself and about his experience with our production of The Whipping Man.
WHT:  Your hometown is not Atlanta, right?
Masud: No, it's Newark, New Jersey.
WHT: But now you are currently living in…?
Masud: Atlanta, Georgia.
WHT: Was your education in the theatrical arts?
Masud: I hold a BA in studio art from Morehouse College in Atlanta and an MFA in sculpture from The Savannah College of Art and Design.
WHT:  So, you've got degrees in studio art and sculpture…how did you transition to theatre?
Masud: I never do anything easy unfortunately. I am a professional actor as well as a studio artist with an ongoing studio practice based in Atlanta, GA. I always had a dual love for performance and the visual arts and in many ways each discipline serves the other. My studio practice is essentially a solitary exercise which feeds my natural inclination towards contemplative creative engagement. The performative dimension of my being derives from a desire for a communal artistic experience that addresses important social issues. Aside from that I just love the stage. I really backed into acting through the encouragement of friends and family who saw something in me which I quite frankly did not initially see in myself. I am profoundly grateful for their belief and support. I have always felt comfortable in the performance arena. There is a kind of visceral energy inherent in acting which inspires and challenges me. Each performance is a journey solitary and collaborative and it is the intersection of these two worlds which continues to compel me. The visual arts is also a collaborative experience but in a very different way generally. The process of creating a work of art takes place in the studio–a struggle between the mind and spirit of the artist and the medium. The work becomes collaborative when it enters the purview of the public and the viewer interacts with the work through the prism of their own experience.
WHT: You aren't leaving the Civil War behind when you leave The Whipping Man, correct?
Masud: That's right. I will be working on a documentary on The Civil War for Georgia Public Broadcasting in March.
WHT: Do you have a favorite role from your past shows?
Masud: I loved portraying J. Max Barber in Four Days of Fury; The Atlanta Race Riots of 1906, written by the brilliant playwright Addaei Moon. I have also thoroughly enjoyed portraying Simon in The Whipping Man. This character has challenged me to grow as an actor and to expand my creative possibilities.
WHT: It's always great when a role allows you to do that as an artist. What's been your favorite thing about working in Greenville?
Masud: I have loved the beauty and charm of Greenville. This has been my first extended stay here and I must say I have been impressed by the landscaping and overall look of the city.  The architecture is visually compelling and the combination of walk/bike paths ingeniously integrated in the city planning brings together a broad spectrum of the city residents.
WHT: Favorite thing thus far about working at The Warehouse Theatre?
Masud: I have really enjoyed the professionalism of The Warehouse Theatre as well as their commitment to challenging work.
WHT: Last question, who are some people or artists that have influenced your work as an actor?
Masud: James Earl Jones. Javier Bardem. Joe Morten. Anthony Hopkins. And Avery Brooks.  I really admire the artistic integrity of these performers and their commitment to doing challenging work.
Catch Masud Olufani in his Greenville debut as Simon in The Whipping Man opening February 20th!  And be on the lookout for his compelling studio work throughout our region.